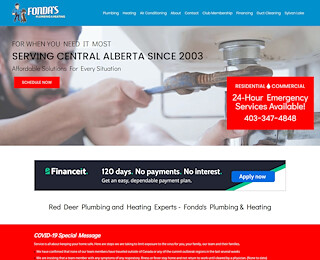 Fonda's Plumbing provides reliable repairs and replacements of water softeners throughout Red Deer and its surrounding areas. If you've ever considered what a water softener could do for the quality of the water throughout your home, call a technician from Fonda's Plumbing at 403-347-4848 and ask to speak with a specialist.
There are numerous benefits to owning a water softening system. Water that has been treated through a softening system offers all of the following advantages:
– You'll immediately notice the difference in the appearance of your glassware and silverware when you start eating off of dinnerware that is cleaner and shinier- something the whole family will certainly enjoy.
– Another great benefit for the entire family is softer, cleaner and smoother hair and skin. Hard water weighs down hair and also does not rinse off soap residue to the degree that soft water can. One bath or shower with softened water and you'll be a believer!
– You'll notice a significant reduction in the amount of soap and shampoo you use in your home, with the same results. You'll lather up quicker and will a lot less detergent, soap or shampoo when your water has been softened.
– Your laundry will be much softer after being washed with soft water. Hard minerals can cause clothing and fabrics to feel stiff. Another benefit is that your clothes will last longer- and your brights will stay bright while your whites will stay white.
– One of the cost-advantages of owning a water softener is in the increased lifespan of your appliances that use water, such as your dishwasher, washing machine, coffeemaker, ice maker, etc. You can protect your hot water heater by purchasing a water softening system for your home and reduce annual energy costs of your water heater by approximately 25%.
You'll simply be amazed at how a water softener can improve the function of your water-utilizing appliances, especially when considering your dishwasher. If you typically take 'cleaned' dishes out of the unit covered in residue, scum or another coating, you can be certain that your entire drain system is covered in the same grime. Now consider what the inside of your water heater looks like, and how years hard mineral build-up can reduce the life expectancy of your expensive appliances.
In light of the appliance-saving advantage of using soft-water, many homeowners consider water softeners to be the best investment they can make in their Red Deer homes. The initial cost of the system will result in money being saved down the road.
If you're looking at water softeners in the Red Deer area, contact the expert plumbers at Fonda's Plumbing at 403-347-4848 and let their technicians answer your questions for you. They'll be able to assess your needs and determine the best product for your home.
Feel free to go online to FondasPlumbing.ca for information on brands available, read testimonials from satisfied customers or enjoy the photo gallery of previous jobs in your neighborhood. In the end, contact the only plumbing company that cares about your home as much as you do.
Water Softeners Red Deer