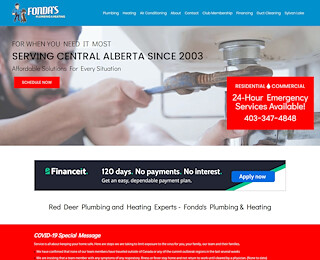 For exceptional hot water heater repair in the Red Deer area, call on the expert techs at Fonda's Plumbing. You'll want an experienced professional working on your hot water tank, and with more than 18 years of experience in the industry, there is no better company to call than Fonda's Plumbing.
From emergency and routine plumbing to indoor and outdoor heating, Fonda's Plumbing is able to exceed your expectations with a dedication to quality service that is not often seen today. Whether you're in need of an emergency hot water heater repair or are looking for a Red Deer company to perform maintenance on your system, make the call to 403-347-4848 and you'll be taken care of promptly.
A tech from Fonda's Plumbing will come out and inspect your system to determine whether a repair would be the best route to take. In all circumstances, they'll do everything possible to make a repair. If your water heater has lived out its lifespan, or a repair will only prolong the inevitable replacement by a short amount of time, your technician will recommend a quality replacement product.
Of course, you wouldn't want to repair your water heater if it's only going to break down again in a month or two. Under these circumstances, you'll want to find a replacement model that will suit your needs and fit your budget. Fonda's Plumbing is committed to helping their customers with equipment that is designed to save money over time. An old, dysfunctional water heater is just not worth keeping around as it will cause a significant rise in your energy bills.
If you happen to need a new unit, the pros from Fonda's Plumbing will install it promptly and professionally, disrupting your life as little as possible along the way, They'll have your hot water flowing again quickly with a system that will positively impact your bills. Once your new system is up and running, it's essential that you schedule maintenance to be performed on your water heater on an annual basis.
If you're not currently maintaining your hot water heater, you may notice that you require repair more often than you feel is necessary. That's quite natural, since you're not providing the much-needed flushing to the system that keeps the elements clean and mineral-free. Annual water heater repair in your Red Deer home or business is the most important thing you can do to enjoy many years of seamless performance.
If it's time to replace your hot water heater, you may want to consider one of the new tankless models that provide instant hot water 'on-demand'. You'll find a tankless system is not only an affordable alternative to a large tank model, it frees up space in your home that can be used for other purposes.
Talk to a technician from Fonda's Plumbing by calling 403-347-4848 if you have any questions about a new installation or if you require a hot water heater repair in the Red Deer area. You'll be glad you called in the experts who will lay out your options and help you choose the best solution among them.
Water Heater Repair Red Deer