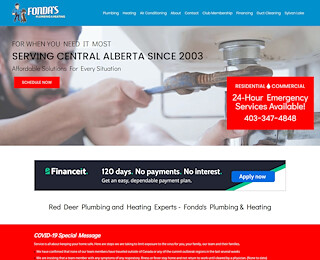 Are you searching for a Red Deer plumber who can tackle your plumbing issues and leave you with a bill that won't break the bank? Call Fonda's Plumbing at 403-347-4848 to speak with one of their technicians about your plumbing problem. Whether there's an urgent matter that needs to be looked at right away, or you're experiencing a routine issue, the experts from Fonda's Plumbing will be out promptly to get things in hand.
At Fonda's Plumbing, their prime goal is to offer prompt, professional and friendly service. They specialize in custom kitchens and bathrooms, hot water tanks and furnace repairs, gas fitting, 24 hour emergency plumbing,  garage unit heaters and a lot more. Kelly Fonda has been serving the central Alberta area for more than 18 years and in that time, has earned the trust of the community through hard work and dedication to excellence.
Have you been giving thought to installing a water softener? If your drinking water has minerals in it, you may be experiencing a host of problems with your appliances. Hard water is well-known for clogging pipes, aggravate soap dissolving and cause water spots on dishes, It can also be unpleasant to drink, depending on the type of minerals that are in your water. Call for a Red Deer plumber from Fonda's Plumbing to discuss a water softener with one of their techs to find out how it can greatly benefit your entire household.
A few benefits you'll notice with soft water include:
- Softer clothing that comes out of the dryer
- A significant reduction in the amount of detergent you'll use on dishes and on clothing, as well as on shampoo and conditioner.
- Sparkling dishes, silverware, glassware, mirrors, tiling, appliances, fixtures and even your vehicles, if you wash them at home.
- You'll notice softer skin and silkier hair
- You'll also save a significant amount of money considering the extended lifespan of your appliances, including your coffee maker, ice maker, dishwasher, water heater and washer & dryer.
The most trusted Red Deer plumber can repair or replace your hot water tank when the time comes to have it looked at. Their technicians recommend having your hot water tank looked at by a professional periodically, even if it's not posing any problems. Annual maintenance to your water heater can greatly extend its life and lower your energy bills through greater efficiency.
For common plumbing issues, Fonda's Plumbing is proud to serve the Red Deer and surrounding communities with affordable services like drain cleaning and repair, fixture repair and replacement, custom kitchen and bathroom work, boiler and furnace repair and replacement and much more.
You simply won't find a Red Deer plumber more dedicated to providing you the best service possible than when you call Fonda's Plumbing at 403-347-4848. For emergency plumbing service, call anytime of the day or night for prompt service and superior workmanship. The pros down at Fonda's Plumbing will do the job right the first time- every time- guaranteed.
Red Deer Plumber