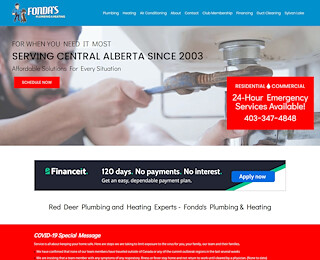 Finding an affordable plumber in Red Deer that repairs gas heating systems is not always easy. When it comes to your gas heater, there is only one local plumbing company that is dedicated to providing you exceptional service at a low cost. Fonda's Plumbing is the local favorite for routine and emergency plumbing and heating.
Fonda's Plumbing is service-oriented, able to exceed your expectations with a focus on professional services and customer satisfaction. When you call and speak with a member of their knowledgeable staff, you'll quickly see how much pride they take in the work that they do. Serving the central Alberta area for more than 18 years has allowed Fonda's Plumbing to build a long and growing client base within the community- one that is loyal to the company that has served them well over the years.
Whether your home or business is currently being heated by gas or you are considering the many benefits of heating with gas, the technicians from Fonda's Plumbing can offer repair, replacement or complete installation. Take a look at a few of the benefits Red Deer residents and business owners enjoy from gas heating:
- Gas is one of the most energy efficient methods of heating. In fact, it is approximately 3x more efficient than heating by electricity.
- Gas is environmentally friendly and is a key component in establishing a clean energy future for the planet. If you've been thinking about reducing your environmental footprint, you'll find gas heating is a great way to do that.
- Being more energy efficient means your gas heating system is going to cost a lot less to use. If you are already heating with gas, you're most likely aware of its affordable nature, however if you've never heated with gas, you'll be pleasantly surprised when it comes time to pay your monthly bills.
- Your gas heating system is ready when you are- even during a power outage, making it one of the most convenient ways to heat a home or business. If you've ever endured a lengthy span of time without power, you can understand the benefit of being able to heat your home, office or building during the winter months.
Fonda's Plumbing repairs and replaces Red Deer gas heating systems in homes and businesses across the region, with affordable repair services and replacement with state-of-the-art equipment that will perform to your satisfaction. For new builds, Fonda's Plumbing installs new systems designed to be a perfect match for the buildings they are being installed in.
Discover the many advantages of gas heating. Call Fonda's Plumbing today at 403-347-4848 to learn more about heating with gas. You'll love working with the company locals have come to trust with their homes and businesses. Kelly Fonda and his team have been serving the area for almost 20 years, and in that time, has earned a reputation in the area for delivering exceptional products and services.
For a complete list of services offered, visit online at FondasPlumbing.ca, or take a look at the photo gallery of previous projects. You'll be glad you called on the local experts in Red Deer who are gas heating pros.
Red Deer Gas Heating