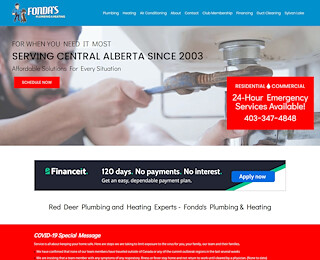 Fonda's Plumbing in Red Deer is a company you can trust. Kelly Fonda and his team bring more than 18 years of experience in the plumbing and gas fitting business to the table and are proud to offer their services to both residences and commercial businesses. Whether you're in need of emergency plumbing or a routine repair, Fonda's Plumbing techs can help.
Are you experiencing some issues with your kitchen or bathroom fixtures? It's not always easy knowing when it's time to call in a plumber, and even when you're certain you require some assistance from a professional, it can be difficult knowing whether to repair or replace your fixtures. Fonda's Plumbing in Red Deer is committed to providing exceptional service, while saving you time and money in the process.
Temporary fixes can often be applied to bathroom and kitchen fixtures that will allow you to get some extra time out of them, however it's important to recognize that nothing is designed to last forever. Your Fonda's Plumbing technician will assess the problem you're having and determine whether it would be in your best interest to repair any fixtures that may be giving you trouble, or replace them with updated ones.
The age of your fixtures will have a lot to do with whether or not it will be cost-effective to replace or repair them. Often, a repair may seem like the more affordable option, when a technician will be able to quickly see that they are working with a fixture or appliance that will again require repair in the near future. Replacement will be the more affordable option in cases such as these.
You'll find Fonda's Plumbing is available throughout all of Red Deer and beyond, offering  the kind of services their customers are most looking for, including:
- 24/7 emergency plumbing service
- A full range of plumbing services
- Boiler repair
- Drain cleaning
- Gas services
- Furnace repair
- Garage unit heaters
- And much more
One of the more popular services Fonda's Plumbing provides in Red Deer is in-floor heating. If you've ever desired barefoot comfort in your home during the winter months, in-floor heating can provide it for your entire family. Often referred to as radiant floor heating systems, these under-the-floor systems can significantly lower your utility bills.
If your home is one that is drafty in the lower third of your room space, you may find it difficult to stay warm, even when your furnace is on. You may find yourself putting on a second pair of socks over the first to keep your feet warm. An in-floor heating system can make your home more comfortable throughout the entire heating season while managing your energy bills much more efficiently.
For all of your plumbing needs in Red Deer, consider Fonda's Plumbing. For service during regular business hours or during a plumbing emergency, please call 403-347-4848 or visit online at FondasPlumbing.com to learn more about the services they offer. While there, check out the photo gallery to see pictures of previous projects.
Plumbing Red Deer