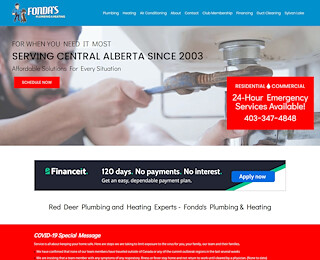 In need of a hot water tank repair in Red Deer? Don't worry- call Fonda's Plumbing at 403-347-4848 to speak with one of their expert techs. They'll be out before you know it to get the problem in hand and get your hot water flowing again promptly.
Fonda's Plumbing has been serving the area for almost 20 years, and in all that time has built a reputation within the community they are proud to own. When it comes to doing the job right the first time, make your first and last call to an expert plumber from Fonda's Plumbing.
Fonda's Plumbing highly recommends having your hot water tank serviced annually. While it might seem like an expenditure, the fact is that annual maintenance to your how water tank is really a smart investment that will pay off in prolonging the lifespan of your system. Before you get to the point where you have to call a tech for a hot water tank repair in your Red Deer home, consider a cost-efficient maintenance call.
You'll experience many benefits from an annual service to your tank and system, including the following:
- Draining your tank annually will remove sediment, dirt and rust from your tank that builds up over time and causing your system to work harder and perform less efficiently. If you notice it taking a long time for your water to get hot, or that you're not getting as much hot water as you once did, it may be time to have your tank drained.
- Your maintenance tech may recommend that you insulate your water tank if it's not already insulated. You'll notice a drop in your energy bill simply by insulating your tank!
- Routine maintenance will ensure that your hot water heater is operating at peak efficiency- all the time. This will, in turn, save money while ensuring that you have plenty of hot water to use when you need it.
- Perhaps you've noticed some unusual noises coming from your hot water tank. You may hear popping, crackling, banging, whistling or other sounds. You may be tempted to ignore than and hope that they will go away in time, but the fact is that if they do go away, the problem may be worse than you thought it was. Annual flushing is key to preventing a hot water rank repair in your Red Deer home.
- You'll get the full life span out of your system by calling in a tech periodically for maintenance. Compare the cost of the purchase and installation of a new hot water heater and you'll find that routine flushing and other maintenance is really a bargain.
Whether you are in need of a hot water tank repair in the Red Deer area or are looking for a reliable company to perform maintenance to your system, you can trust the company locals turn to when they need an experienced technician. Call Fonda's Plumbing at 403-347-4848 for routine and emergency plumbing in your home or business. 
Hot Water Tank Repair Red Deer