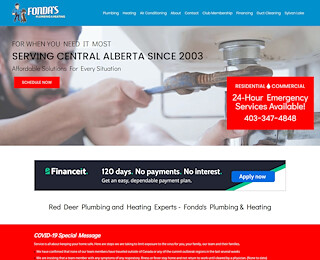 Fonda's Plumbing provides 24 hour emergency drain repair throughout the Red Deer area and beyond. If you're experiencing issues with your home's drainage system, call 403-347-4848 and let the experts come in and assess whether you require a thorough cleaning, repairs or a replacement of your drain. New installation is available as well.
Fonda's Plumbing is well known throughout the Red Deer community for their exceptional plumbing services. They do a lot more than just clean out drains, in fact, their techs offer a full line of drain services including main sewer line repair, sewer line cleaning and partial or complete line replacement. There are numerous reasons why you may be experiencing issues with drainage in your home. Your drainage problems may be related to:
– A pipe that has been broken, collapsed, cracked, compromised or offset due to work being performed in the immediate area, soil shifting or ground settling.
– A blockage due to buildup from grease or other foreign matter, or an object lodged along the way can restrict or completely block the flow of your drain system. If you've tried home remedies, such as plunging or drain cleaners (which should never be used, but he way) with no results, you'll need to call in the expert drain repair team in Red Deer.
– While pipes have a long lifespan, they are not designed to last forever. A corroded pipe may create a collapse in the line that creates havoc to your drainage.
– Roots that penetrate pipes can cause a great deal of damage, especially when they are suspected but go unchecked. In cases such as these, you'll need professional drain repair in your Red Deer home. Call Fonda's Plumbing at 403-347-4848 for a thorough inspection. Modern video camera inspections can quickly diagnose problems so that your technicians can get to work quickly to make repairs.
– Inferior materials are often the cause of pipes providing a shorter than anticipated lifespan. Fonda's Plumbing repairs drain issues with high quality materials and installs new pipes that will provide homeowners with a long span of function.
You can count on the technicians from Fonda's Plumbing to provide you with exceptional workmanship and service, having been fully trained in the use of innovative equipment and techniques to address your plumbing problems and implement solutions quickly. Ask about modern trenches repair methods that are easier on yards, driveways and yard surfaces when you call.
If you're experiencing drainage issues that do not have an obvious cause, Fonda's Plumbing may recommend a video camera inspection to track down the blockage, collapse, corrosion or other problem. Real-time video will provide valuable information on the condition of your drainage system so repairs can be implemented correctly and promptly.
For more information on an affordable drain repair in Red Deer, call the pros from Fonda's Plumbing at 403-347-4848. Emergency 24 hour service is provided for customers with urgent drainage and plumbing needs; do not hesitate to call day or night if you require service.
Drain Repair Red Deer